TBA Christmas Party & Giving Tree
The 2019 TBA Christmas Party was held on Saturday 14 December. Members contributed generously to a bring-a-plate lunch, and enjoyed a pleasant afternoon's bridge. The club rooms were at full capacity with 23.5 tables playing in three sections catering to players of all levels: supervises, restricted (< 150 MP) and open. The results are here : supervised, restricted, open.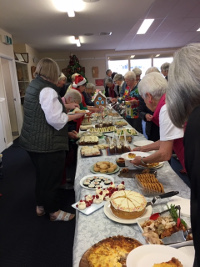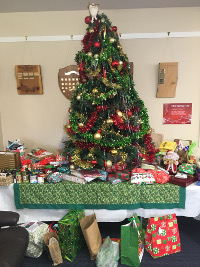 This year TBA members have again supported Colony 47 by donating gifts and hamper items under the TBA Giving Tree. All donations will be collected by Colony 47 on Monday 16 December. Thank you to all members who have contributed.
---
What's News at the TBA – November 2019
The TBA Committee met on Tuesday December 3rd from 7.30pm.
PRESENT : J Rhodes (Chair), K Marsden, S Falkingham, M Sherlock, M Gibbs, E Gee, J Grosvenor, G Poulton, A Paton, S Edler, J Bills
The following matters were discussed :
Progress on Club Extensions
Ann Paton and I met with the architect on December 2nd to discuss the overall objectives of the expansion. We are seeking to have an additional acoustically separate teaching area which can also double as an expanded playing area, as well as significantly enhancing the kitchen/dining amenity. We also want to retain a meeting room/library facility and provide additional storage. When we have received the concept drawings from the architect we will display these for member feedback.
Any grant or bequest to assist in the funding of these extensions would be gratefully received by the Club. This could be done anonymously, or you could have a part of the extension named for yourself or a loved one such as is the case with the Vera Houdek room.
Please see Julie Rhodes about this if you would like to participate in the funding of the extensions. A grant or bequest of this nature would expedite the construction program and/or save the club having to borrow additional funds.
Membership Renewal
Each year, our Members are asked to pay an annual renewal fee which contributes to the running and maintenance of our club facilities. Our fees are due from January 1st and part of them must be forwarded to the ABF by the end of the following March. Each year, most of our members pay their fee promptly which enables continuity of both their TBA and ABF membership.
However, there are always a few members who for various reasons delay paying their membership renewal until their membership defaults with the ABF and the TBA must therefore pay a financial penalty to reinstate that member. There is also a lot of following up and extra paperwork required necessarily undertaken by people who are volunteering their time to do this.
It does not seem fair that the majority of members who renew their membership promptly should subsidise the membership of those who let their TBA and/or ABF membership lapse. Consequently, we are canvassing the introduction of some sort of late payment fee. I am interested in feedback from members, particularly those who are regular late payers. If you have any suggestions as to how to address this problem, please share them with John Grosvenor or myself.
Christmas Activities
Our annual Christmas Party will be held on Saturday December 14th from 12 Noon, followed by FREE Bridge afterwards. If you are attending please bring a plate of food to share.
We will be encouraging our new beginners to participate in this event and will be running a separate section for them. Please make our new members feel welcome at all times.
In the meantime, please give consideration to helping us to assist one of our designated charities, Colony 47 which provides a variety of services to our local community. You can help by putting a gift under our tree which will be delivered to Colony 47 in time for Christmas. Colony 47 have specifically asked for gifts for adults as they usually receive plenty for children. This year they have asked for gifts of toiletries for men and women and/or basics such as socks and undies for men and women. They do not prefer cash or gift cards.
Over Christmas the club will be closed on Christmas Eve, Christmas Day and New Years Eve.
We will be running one session on Boxing Day (Thursday Dec 26th) commencing at 10.30 am with a short lunch break – a great opportunity for turkey sandwiches! On New Years Day (Wednesday Jan 1st) only daytime bridge will be held.
Otherwise sessions be held as usual.
Beginners Classes 2020
The next series of Beginners Classes will commence on March 3rd (Monday afternoons 1.00pm - 3 .00pm) and 4th (Tuesdays 7.00pm – 9.00pm).
If you know anyone who you think would be interested in taking up bridge, please advise them to register their interest with Sue Falkingham.
Thank you and Happy Christmas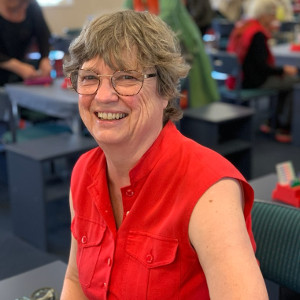 A big thank you to all those who have assisted in the running of our Club in 2019.
We would not be able to function without you and your contribution is noticed and appreciated.
I wish you and your loved ones a happy, healthy and safe Christmas and look forward to seeing you all in 2020!
Happy Bridging
Julie Rhodes
TBA President
---
The TBA Committee has approved membership applications for the following people. Please make them feel very welcome as you see them around the club.
♠ Jill Calvert
♥ Judi Ludowyke
♦ Kim Clifford
♣ Margie Playsted
♣ Judy Davis
♦ Shelley Pope
♥ Biz Gibson
♠ Mandi Snowden
♠ Lisa Johnston
♥ David Wallace
♦ Jill Johnstone
♣ Amanda Wells
♣ Gulum Kocak-Sunamak
Congratulations to the TBA members who achieved rank promotions at the end of November 2019:
| | |
| --- | --- |
| ♠ Kate Dalgleish - Regional | ♥ Margaret Parsons - *Local |
| ♦ Mardi Grosvenor - **Local | ♣ Kerry McKillop - *Local |
As at the end of November 2019 there were three Tasmanians in the National McCutcheons Top 10s (cohorts of people who started the year at the same level, ranked by Masterpoints earned in the year):
♠ Sue Martin - #8 *State list (73.47 MP)
♥ John Grosvenor - #8 Club list (32.97 MP)
♣ Mardi Grosvenor - #2 Graduate list (32.85 MP)
The ABF Masterpoint Centre website provides a range of club, state and national reports updated each month. These include promotions, McCutcheons, most improved players, and top 50 Masterpoint earners.
---
The TBA would like to promote a Buddy scheme for players to transition into regular club sessions. Buddy schemes are being encouraged by the ABF, and similar schemes have had a great impact in New Zealand.
If you are a supervised player and would like a friendly face to play a couple of regular club sessions with let us know. Tell us which sessions would suit you and we will match you up with a Buddy.
If you are a regular club player and would be interested in being a Buddy please let us know which sessions you would be available to play in. There is no table money to play as a buddy, just write 'Buddy' on the money slip. There is a limit of 3 times to play with the same player. A Buddy is not to be a teacher but a friendly partner. Constructive comments only about play may be given but are never done during play but at the completion of a session.
Please email tba@tasbridge.com.au if you are interested in being a Buddy or being paired up with a Buddy.
---
The 2019 TBA Spring Pairs were held at the club rooms on Sunday 24 November. This was an IMP/VP scored Swiss Pairs event played over 6 x 9 board matches. 20 pairs competed, including 5 pairs under National master.
The winners were David Robinson and Julie Rhodes. Second place went to Jane and Robert Tyson, and third place went to Bert Forage and Maruta Boyd. Mardi and John Grosvenor were the topped placed "Category B" (under National master) pair at 12th. Full results are here.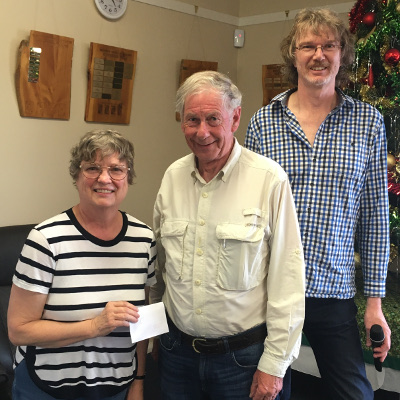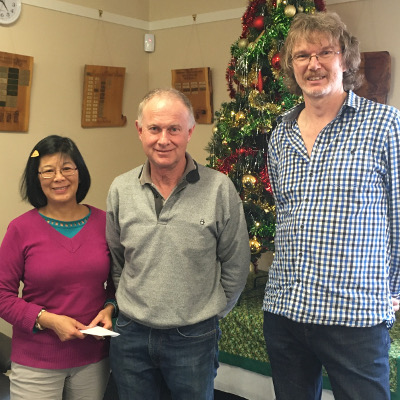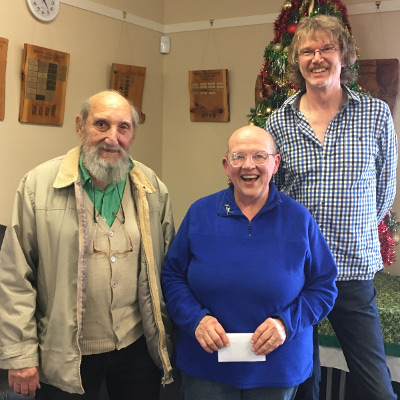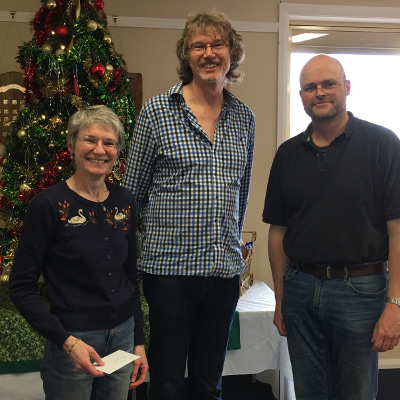 Thanks to Simon Edler for organising and directing the day. Thanks to all of the players who brought food along for the day.
---
Australia-wide Restricted Pairs
Australian Bridge magazine runs three Australia-wide pairs events each year - novice, restricted and open. The restricted event (fewer than 300MP) is the last in the year and was run at the end of October. The TBA session was held on Thursday 31 October. The club rooms were at full capacity with 26 tables playing. Around Australia 973 pairs played the same set of boards and were scored as one national field.
The local results for the TBA session are here. The top placed pairs were:
| | |
| --- | --- |
| North-South | East-West |
| Barbara Giizel - Pam Murphy | Stevie Griggs - Carmel Thomson |
| Marleen Lynch - Helen Morling | Mardi Grosvenor - John Grosvenor |
| Colin McGavisk - Kerry McKillop | Cheralyn Bird - Frank Powell |
In the national single field of 973 pairs, the top placed TBA pairs were:
61st - Stevie Griggs - Carmel Thomson (60.8%) - 12th under 50MP
70th - Mardi Grosvenor - John Grosvenor (60.4%) - 17th under 50MP
84th - Barbara Giizel - Pam Murphy (59.8%)
100th - Florence Lewis-Bryan - Vicki Douglas (58.8%)
113th - Liz Sellen - Clive Sellen (58.2%)
The highest placed Tasmanian pair were David Rogers and Sue Martin from the Devonport Bridge Club who played in the Tamar session. They were placed 51st with 61.2%.
Thanks to Chris Carolan for organising and directing this demanding session for the TBA. The national results are available here. The summary for the 2019 Australia-Wide Novice Pairs is here. The summary for the 2019 Australia-wide Open Pairs is here. Watch out for the first of the 2020 series, the Australia-wide Novice Pairs. coming at the end of May 2020.
---
Melbourne Cup - Bridge + Lunch
The race that stops the nation didn't stop the TBA. 43 pairs came to the TBA on cup day for a day of bridge, fashion, food and racing.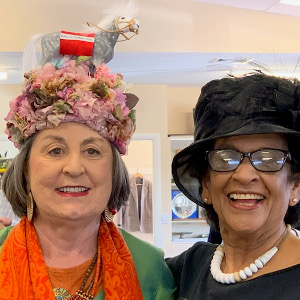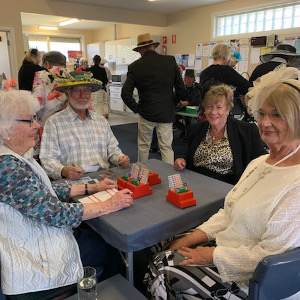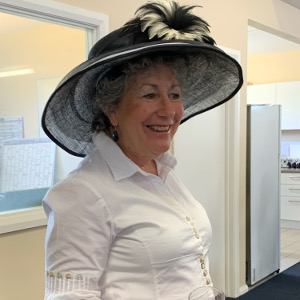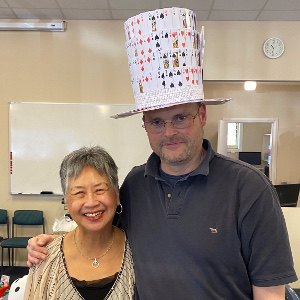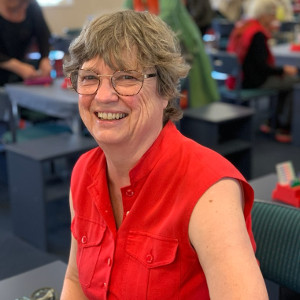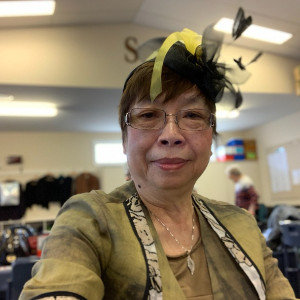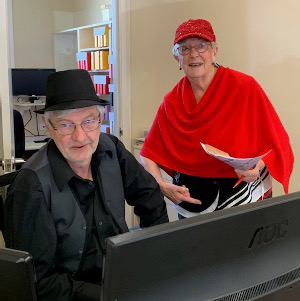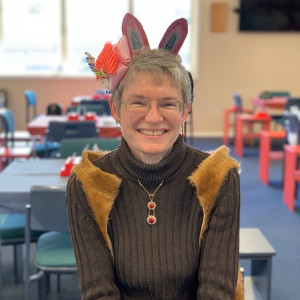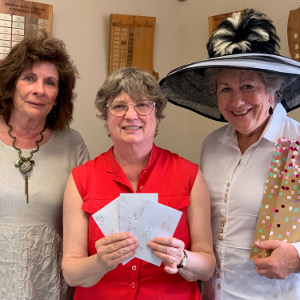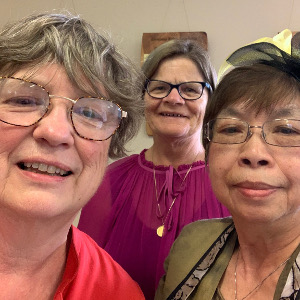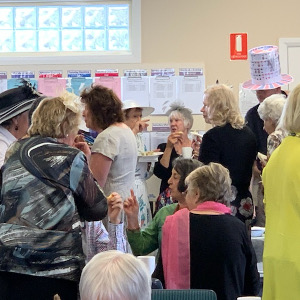 The bridge results are here. Winners were:
Highest placed pair NS: Sarah Howard and Maria Gibbs
Highest placed pair EW: Pam Murphy and Barbara Giizel
Highest placed pair under 50 masterpoints: Kay Thiessen and Heather Viney
Highest placed pair under 5 masterpoints: Anna Chivers and Dorothy Stevenson
Best female outfit went to Sandra Miedecke. Best male outfit went to Graeme Poulton. Best hat went to John Grosvenor, with an honourable mention to Andrew Walter. Best fascinator went to Dianne Kriegs.
Thanks to Jan Colville for leading the organisation for the day. Thanks to Chris Carolan for Directing. Thanks to Julie Rhodes for organising lunch, and to everybody who brought food and helped with the catering and clean-up.
---
Tasmanian Swiss Pairs Championship 2019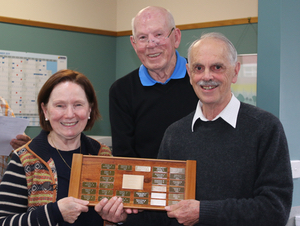 Over the weekend of 26-27 October the 2019 Tasmanian Swiss Pairs Championship was help in Devonport. 18 pairs competed, with players from clubs around the state. Seven 14 board matches were played over four sessions.
The winners were Roger Watts (Devonport BC) and Pamela Lidl (Tamar BC), pictured here with Director John Bailey. Second were Roger Swain (Tamar BC) and Frank Milford (Tamer BC). Third were Margaret Robertson (Tamar BC) and Margaret Gibbs (TBA). Full results are on the Devonport Bridge Club website.
Thanks to John Bailey for directing, and to the Devonport Bridge Club for hosting the event.
---
TBA Novice Pairs Championship 2019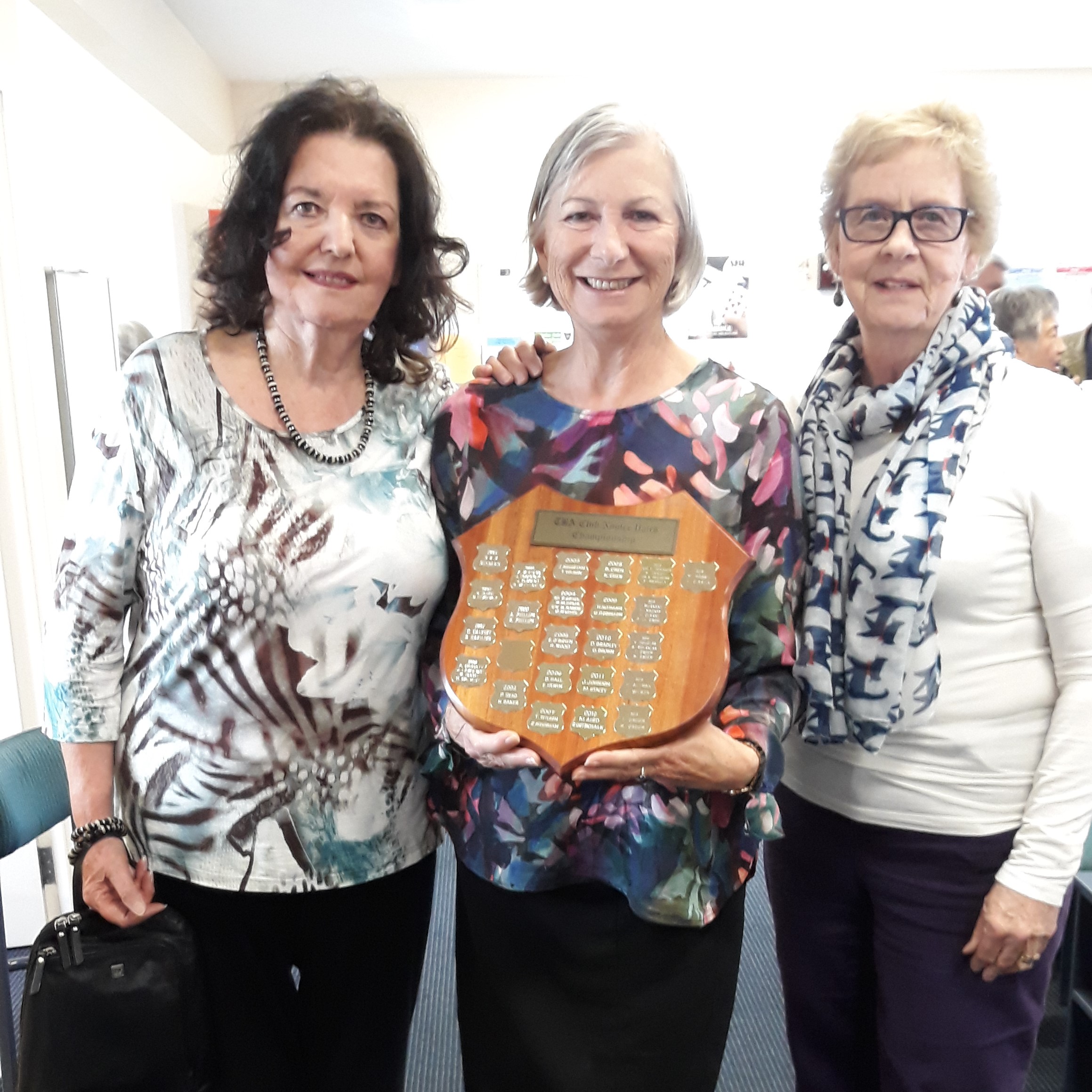 The 2019 TBA Novice Pairs Championship was held on Wednesday 16 October 2019. Entry was restricted to players with fewer than 25 Master Points as at 30 June 2019. The club rooms were close to full with 20 pairs competing in a separate section in parallel with the regular Wednesday morning session. The field included a number of pairs playing for the first time in a non-supervised session, including players from this year's beginners courses.
Congratulations to the winners, Sandra Miedecke and Alice Stillwell. Special mentions to Paul Fredheim (6th), Wendy Gilson (9th) and Lindsey Johnstone (9th) who earned their first Master Points in the event. Full results are available here. Thanks to Sue Falkingham for directing the event.
---
Launceston Bridge Club Congress 2019
The weekend of 5-6 October 2019 saw a full weekend of bridge in the north with the Launceston Bridge Club Congress. The Congress had pairs competitions on Saturday (8 pairs in the Restricted and 29 pairs in the Open) and Swiss Pairs on Sunday (38 pairs).
Top positions went to (click on the titles to go to the full results):
| | | |
| --- | --- | --- |
| Restricted | Open | Swiss |
| 1. Jean Murray & Kevin Crombleholme | 1. Jane Tyson & Angela Little | 1. Bert Forage & Maruta Boyd |
| 2. Elizabeth Sward & Phillip Powell | 2. Sandra & Andrew Richman | 2. Jane Tyson & Angela Little |
| 3. Pauline Anderson & Wendy Newman | 3. Bert Forage & Maruta Boyd | 3. Julie Rhodes & Anna Egan |
Jane Tyson & Angela Little
Open 1st, Swiss 2nd

Sandra & Andrew Richman
Open 2nd, Swiss 6th

Maruta Boyd & Bert Forage
Open 3rd, Swiss 1st

Julie Rhodes & Anna Egan
Swiss 3rd

Wendy Newman & Pauline Anderson
Restricted 3rd

A packed room ready to start
---
2019 Open and Womens Pairs Championship
On Sunday 25 August 2019 18 pairs competed over two sessions in the 2019 Open and Womens Pairs Championships.
The open winners were Michael Woodhams and Bert Forage, placed first and second in the morning and afternoon sessions respectively. Womens champions and second in the open were Julia Corr and Maria Gibbs. Third place in the open went to Margaret Robertson and Margaret Gibbs. Full results are at: morning, afternoon, overall
Thanks again to Simon Edler for a busy weekend of directing, and to the volunteers who ensured that the day ran smoothly.
---
2019 Restricted Pairs Championship
The 2019 Restricted Pairs Championship was held at the TBA club rooms on Saturday 24 August 2019. The event was open to pairs with less than 150 masterpoints as at 31 March 2019, with 12 pairs competing.
First place was taken by Marg Enright and Gill Robinson by a healthy margin of 34 match points. Second place went to Julia Johnson and Geoff Green. Third place went to Sue Martin and Sue Falkingham. Full results are at: morning, afternoon, overall
1st - Gill Robinson and
Marg Enright (absent)

2nd - Julia Johnson
and Geoff Green

3rd - Sue Martin and
Sue Falkingham
Thanks to Simon Edler for directing, and to the volunteers who ensured that the day ran smoothly.
---
2019 Australian National Championships
The 2019 Australian National Championships is on in Melbourne from 13-15 July.
Tasmania had three state teams competing in the Interstate Teams:
Open - Jane Tyson, Robert Tyson, Andrew Richman, Sandra Richman (PC), John Bailey, Hilton Francis
Women (picture below, L-R) - Maruta Boyd, Dallas Cooper (PC), Maria Gibbs, Anna Egan, Julie Rhodes, Julia Corr
Senior - Valda Badcock, Judy Mann, Fiona Hickey, Alaine MacMorran, Sue Martin, Sue Falkingham (PC)
Sadly Tasmania did not have a Youth team. The full list of state teams is here.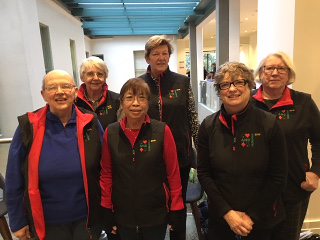 The ANC Interstate Teams Qualifying finised on Wednesday. The results are available here.
In addition to the ANC teams events there are a range of ANC and Fringe Bridge Festival events on, with various Tasmanian players are participating. Full details are available at the 2019 ANC Website
---
The 2019 TBA Congress was held over the weekend of 29-30 June at the TBA club rooms.
Sunday was the Swiss pairs, with a field of 36 pairs competing over 6 rounds of 9 boards. The full results are here.
1st - Sandra and Andrew
Richman

2nd - Dallas Cooper and
Maruta Boyd

3rd - Barbara Holland and
Bert Forage

4th - Ian Mansfield and
Bob Patterson

5th - Julian Corr and
Maria Gibbs

Restricted - Rose Rowell and
Marleen Lynch
Saturday saw the rooms packed for three sections of matchpoint pairs. 17 pairs played in the open, 18 in the restricted (fewer than 150 masterpoints) and 14 in the novice (fewer than 25 masterpoints). Full results are here: open, restricted, novice
Open - 1st - Sandra and Andrew
Richman

Open - 2nd - Jane and Robert
Tyson

Open - 3rd - Wynne Webber and
Ann Paton

Restricted - 1st - Mary Hawthorne and
Gail Garth

Restricted - 2nd - Anna Egan and
Annie Bartlett

Restricted - 3rd - David Marshall and
Marian Van Den Byllaardt (absent)

Restricted - 4th - Julia Johnson and
Geoff Green

Novice - 1st - Mardi and John
Grosvenor

Novice - 3rd - Edward Gee and
Jeggs Nuttall
The presentations were made by TBA Vice-president Lynne Cooke, with TBA Chief Director Simon Edler loitering in the background. Absent for the presentations were 2nd placed novice pair - Debbie Easther and Pam Batrouney.
The novice field included four pairs of players yet to make Graduate master. They were congratulated on taking the step of entering a congress event. The best performing pair in this group - Elizabeth Taranto and Jan Sheen - received special recognition for their achievement in coming fourth.
Thanks to Simon for all of his work organising and running the congress, and to all members who brought food and helped organise the weekend.
---